July is National Ice Cream Month, and National Ice Cream Day is this Sunday, July 16. So, let's talk ice cream.
One of the best places in Baton Rouge to observe this celebration is the LSU AgCenter Dairy Store, where you can get from-scratch, locally made ice cream. We visited the Dairy Store, which is nestled on the corner of South Stadium and Tower drives, to find out how the ice cream is made.
A sweet history
The Dairy Store has been in its current location since 1956, then called LSU Creamery. Today, it offers a range of 16 ice cream flavors, as well as packed half-gallon and 3-gallon containers, along with coffee, smoothies and meats and cheeses, including LSU Cheddar and Jalapeño Cajun Spice cheeses.
But the creamery's roots date all the way back to 1905, when it opened as an instructional research space for LSU's dairy science students. Originally located on the land where the current state capitol building rests downtown, the creamery moved several times over the decades before settling in its current space. Its sales room opened in 1929 with tremendous success, particularly during WWII when Baton Rouge citizens sought its dairy products in response to rationing. In March 1972, it reopened the salesroom as the LSU AgCenter Dairy Store.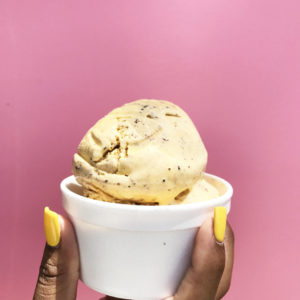 Ice cream for educational purposes
The Dairy Store still operates as research and instructional facility for Dairy Science students. Students are actively involved with the store's product development, producing new flavors like Oak Fudge Alley, a fudgy mint concoction. Some of the current research initiatives receive funding from California Milk Producers, Community Coffee Company, Inc., and Dairy Management, Inc. For K-12 students, the AgCenter offers tours and video presentations on how its cheddar cheese and ice creams are made. Typically, 5,000 to 8,000 elementary and high school students visit the facility each year.
Previously run by solely College of Agriculture students, the Dairy Store's current employees are students from all majors and concentrations. According to manager Andrea Armstrong, most students stay on with the Dairy Store throughout their college careers.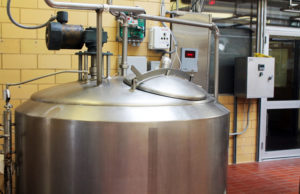 How the ice cream is made
Though the Dairy Store currently gets its milk from Southeastern University in Hammond because of a pause in the LSU AgCenter's dairy operations in Baton Rouge, the ice cream making process—and the taste—is the same.
After collecting about 20 containers with milk, the milk is pasteurized to remove bacteria and then ingredients like sugar and cream are mixed in. That mixture is moved through pipes into a chilling machine to be cooled down. Then it is funneled to a freezing machine, and a "food eater" stirs in any extra, solid ingredients, such as fruit or chocolate chips. The process takes about three days, with batches typically beginning on Wednesdays and packaged on Fridays, producing an average of 50-55 gallons each.
Where to find the ice cream
The Dairy Store's best seller is Tiger Bite, an original ice cream creation combining blueberry and vanilla flavors with gold food coloring for an LSU theme. Some other employee favorites include the classic chocolate ice cream and a praline flavor. The ice creams are available in-store, at the two on-campus dining halls and from the Dairy Store's ice cream truck, which travels to events on- and off-campus.
The LSU AgCenter Dairy Store is open Monday-Friday, 8:30 a.m.-5 p.m.