---
Once upon a time, before 24-hour news cycles and infinite streaming and social media, America got its entertainment jollies from weekly radio shows. Performers, many of whom would go on to work in television, voiced-acted their way through scores of original comedies and dramas, each ending with a don't-touch-that-dial cliffhanger that kept audiences rapt.
The Golden Age of Radio of the '30s and '40s may seem like an antiquated art form today, eclipsed by our heavy reliance on the visual. But not so fast, says Timmie Callais, founder and artistic director of the year-old WRKF Radio Drama Club. The auditory arts troupe is producing original radio dramas that air on occasional Sunday evenings on the Baton Rouge public radio station.
"We listen to podcasts, we listen to audiobooks, and in natural disasters, which we're very familiar with, we tune into radio," says Callais, WRKF's membership director by day. "It makes sense that listeners would find radio dramas appealing."
And they have. The WRKF Radio Drama Club wrapped its first season this spring with a well-received six-part limited, original series called "The Time Team." The family-friendly show depicts the adventures of a time-traveling scientist named Dr. Bungles, and two children and their mom. In each episode, the characters travel to a different period in history, where they interact with famous figures and learn something about life and love.
The Radio Drama Club's second season, which starts auditions this month, airs this fall with a series of stand-alone episodes that will air on WRKF on occasional Sunday evenings at 8 p.m. Broadcasts are also available on YouTube.
The first episode of the second season, "Scuderi a La Scala," will dramatize the life of soprano Sara Scuderi and her years of performing at the famed Milanese opera house, Teatro alla Scala, Callais says.
More than 20 local singers and actors make up the Radio Drama Club, each playing recurring or ensemble roles. Callais writes and co-produces the shows, and plays the part of Dr. Bungles in "The Time Team."
Music is fundamental to the Radio Drama Club's variety show format, says music director Beth Bordelon, a Baton Rouge voice instructor and co-founder of Red Magnolia Theatre Company. Bordelon created the club's opening jingle and chooses music to fit each show's theme. She also collaborates with regular musical guests.
"I have found this experience to be incredible, and very different from theater," Bordelon says. "There's so much talent in Baton Rouge, and there's nothing like being in a room with people who just want to be creative with one another."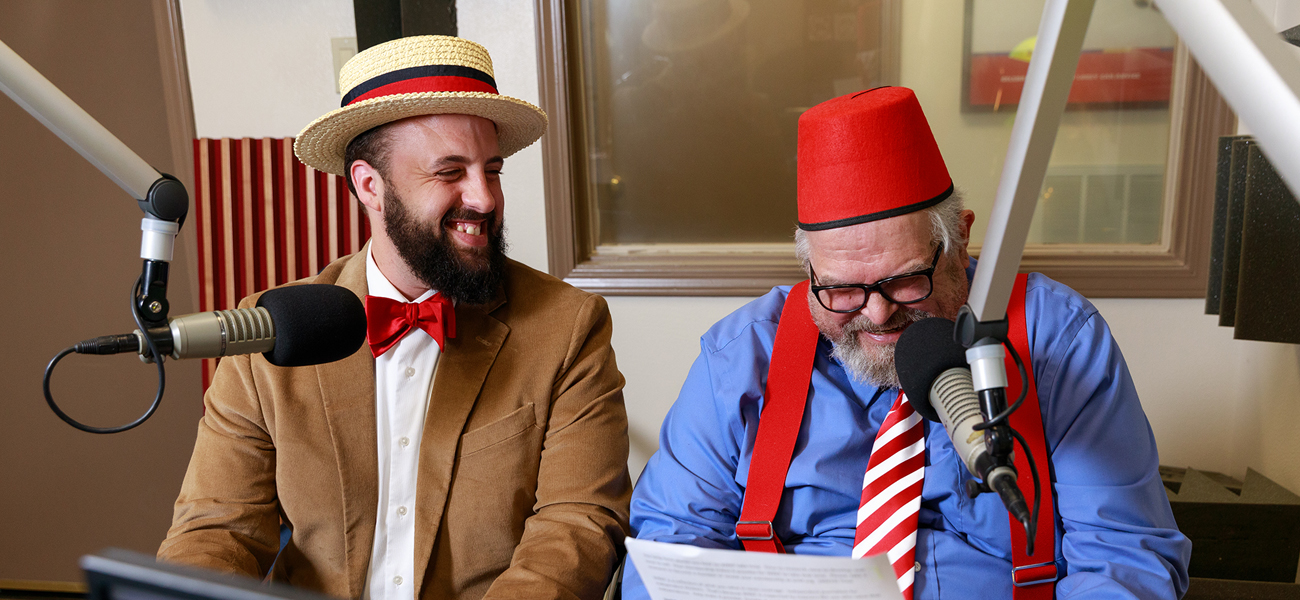 Callais' childhood in Cut Off, Louisiana, provided inspiration for his interest in radio. He entertained himself with Golden Age broadcasts, including the comedy My Favorite Husband, which then starred Lucille Ball, and the Orson Welles 1938 production of War of the Worlds, which spooked nationwide listeners who missed its disclaimer about a real-time Martian invasion actually being fictional. Inspired by the film Back to the Future, Callais also invented an imaginary time travel game he and his cousins enacted on lazy afternoons. It was the precursor to "The Time Team."
Callais writes each script over the course of about a month, after which the actors meet by Zoom for a virtual table-read. Callais makes adjustments and the group rehearses again, finally meeting face to face for the official taping. The show is edited to fit a 60-minute format.
Acting for radio drama stretches a performer's skills, Callais says.
"What's different about this kind of acting is that you're imagining everything," he says. "Every ounce of energy you're expressing has to come through the voice. It's really an incredible experience." Facebook.com/TheRadioDramaClub
---
This article was originally published in the June 2022 issue of 225 magazine.