Tucked away in a suburban country club in Washington, D.C., a metal monolith known simply as "The Crest" became an unlikely skateboarding and punk-rock mecca during the cultural zeitgeist of the 1980s.
The Crest, which also became a veritable symbol of unadulterated freedom of expression, paints the backdrop of the 2017 documentary Blood and Steel: Cedar Crest Country Club.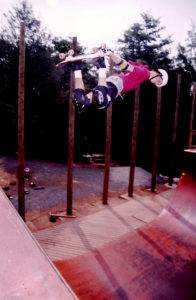 The film utilizes a vast catalogue of archival photos and videos to convey the cultural significance of The Crest. It also features interviews with a number of prominent figures who visited the skateboarding hub during its prime, including Tony Hawk and Bucky Lasek.
The documentary also features interviews with members of the bands that made history at The Crest, such as GWAR, Scream and Government Issue.
These groups, which helped define the era of the 1980s skateboarding and punk-rock scenes, also help soundtrack the film.
If you are interested in exploring this unique and influential period of American cultural history, you can purchase $6.50 tickets here to Manship Theatre's June 10 screening of the film.